Holiday rental Attached house in sankt michael im lungau (5582) - Austria
Self-catering accommodation for 8 people in Sankt Michael im Lungau (5582) ...
Advertisement reference: adv070942138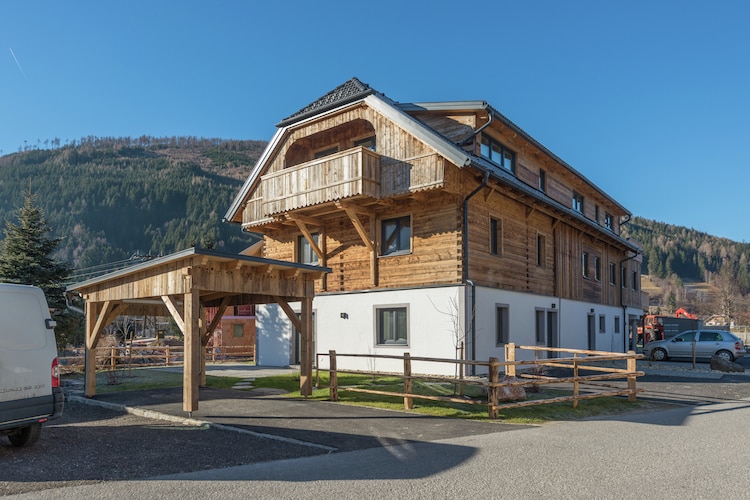 Accommodation description
129 m² accommodation for 8 people. This accommodation is located in the town of Sankt Michael im Lungau ( in Austria). Pets are forbidden. This accommodation is close to: Shops, Town centre, Lake, Supermarket, Restaurants, Public pool, Public indoor pool, Ski lift, Ski shuttle service. This accommodation is composed of: Kitchenette, Bathroom, Separate toilet, Living room.
Accommodation
129 m² Attached house for 8 people


4 room(s)
Kitchenette
Bathroom
Separate toilet
Living room
Bedroom (x3)
Internal facilities
Bath
Dishwasher
Microwave
Oven
Refrigerator
Shower
Television
Tumble dryer
Washing machine
External facilities
Private car park
Ski room
Environment
No data available
Miscellaneous
Non-smoking accommodation
Pets forbidden
Services
No data available
Town centre

: 2,8 km

Lake

: 14 km

Supermarket

: 2,4 km

Restaurants

: 2,8 km

Public pool

: 3 km

Public indoor pool

: 14 km

Ski lift

: 4 km

Ski shuttle service

: 140 m
| Period | Price per day | Price per week | Price per fortnight | Price per month | People number | Minimum stay | Availabilities |
| --- | --- | --- | --- | --- | --- | --- | --- |
| From 31/08/2019 to 07/09/2019 | - | 566 € | - | - | 8 | 7 days | Available |
| From 07/09/2019 to 14/09/2019 | - | 566 € | - | - | 8 | 7 days | Available |
| From 14/09/2019 to 21/09/2019 | - | 534 € | - | - | 8 | 7 days | Available |
| From 21/09/2019 to 28/09/2019 | - | 534 € | - | - | 8 | 7 days | Available |
| From 12/10/2019 to 19/10/2019 | - | 534 € | - | - | 8 | 7 days | Available |
| From 19/10/2019 to 26/10/2019 | - | 534 € | - | - | 8 | 7 days | Available |
| From 26/10/2019 to 02/11/2019 | - | 534 € | - | - | 8 | 7 days | Available |
| From 02/11/2019 to 09/11/2019 | - | 877 € | - | - | 8 | 7 days | Available |
| From 09/11/2019 to 16/11/2019 | - | 877 € | - | - | 8 | 7 days | Available |
| From 16/11/2019 to 23/11/2019 | - | 877 € | - | - | 8 | 7 days | Available |
| From 23/11/2019 to 30/11/2019 | - | 877 € | - | - | 8 | 7 days | Available |
| From 30/11/2019 to 07/12/2019 | - | 877 € | - | - | 8 | 7 days | Available |
| From 07/12/2019 to 14/12/2019 | - | 877 € | - | - | 8 | 7 days | Available |
| From 14/12/2019 to 21/12/2019 | - | 877 € | - | - | 8 | 7 days | Available |
| From 04/01/2020 to 11/01/2020 | - | 960 € | - | - | 8 | 7 days | Available |
| From 11/01/2020 to 18/01/2020 | - | 960 € | - | - | 8 | 7 days | Available |
| From 18/01/2020 to 25/01/2020 | - | 960 € | - | - | 8 | 7 days | Available |
| From 25/01/2020 to 01/02/2020 | - | 960 € | - | - | 8 | 7 days | Available |
| From 01/02/2020 to 08/02/2020 | - | 1 435 € | - | - | 8 | 7 days | Available |
| From 08/02/2020 to 15/02/2020 | - | 1 435 € | - | - | 8 | 7 days | Available |
| From 15/02/2020 to 22/02/2020 | - | 1 714 € | - | - | 8 | 7 days | Available |
| From 29/02/2020 to 07/03/2020 | - | 1 435 € | - | - | 8 | 7 days | Available |
| From 07/03/2020 to 14/03/2020 | - | 960 € | - | - | 8 | 7 days | Available |
| From 14/03/2020 to 21/03/2020 | - | 960 € | - | - | 8 | 7 days | Available |
Available
Unavailable
Special offers
Last-minute rentals