Holiday rental Independent house in grabovac, goricaj (21271) - Croatia
Self-catering accommodation for 12 people in Grabovac, Goricaj (21271) close to ...
Advertisement reference: adv210942301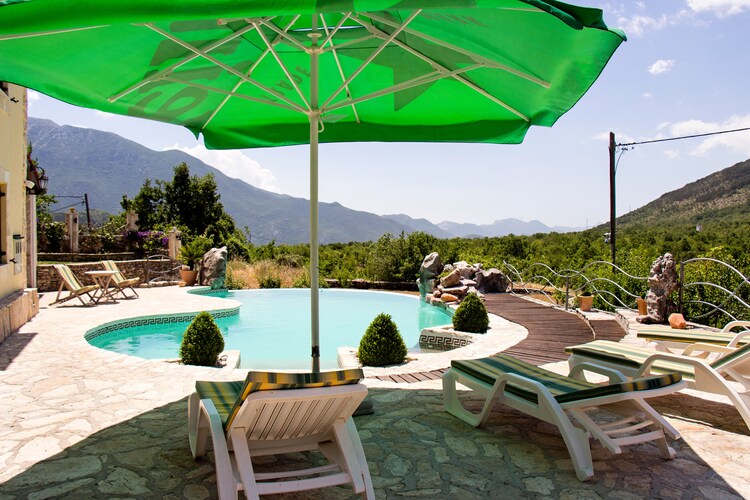 Accommodation description
380 m² accommodation for 12 people. This accommodation is located in the town of Grabovac, Goricaj ( in Croatia) and is close to: Sea, Sand beach, Lake, Supermarket, Restaurants, Public transport. This accommodation is composed of: Kitchenette, Bathroom, Separate toilet, Living room, Dining room.
Accommodation
380 m² Independent house for 12 people


9 room(s)
Kitchenette
Bathroom
Separate toilet
Living room
Dining room
Bedroom (x6)
Internal facilities
Air conditioning
Bath
Dishwasher
Gym
Oven
Refrigerator
Shower
Television
Washing machine
External facilities
Barbecue
Bowling pitch
Garden furniture
Private car park
Terrace
Veranda
Environment
No data available
Miscellaneous
Non-smoking accommodation
Pets allowed
Services
No data available
Sand beach

: 18 km

Lake

: 25 km

Supermarket

: 9 km

Restaurants

: 9 km

Public transport

: 9 km
| Period | Price per day | Price per week | Price per fortnight | Price per month | People number | Minimum stay | Availabilities |
| --- | --- | --- | --- | --- | --- | --- | --- |
| From 19/01/2019 to 26/01/2019 | - | 2 747 € | - | - | 12 | 7 days | Available |
| From 26/01/2019 to 02/02/2019 | - | 2 747 € | - | - | 12 | 7 days | Available |
| From 02/02/2019 to 09/02/2019 | - | 2 747 € | - | - | 12 | 7 days | Available |
| From 09/02/2019 to 16/02/2019 | - | 2 747 € | - | - | 12 | 7 days | Available |
| From 16/02/2019 to 23/02/2019 | - | 2 747 € | - | - | 12 | 7 days | Available |
| From 23/02/2019 to 02/03/2019 | - | 2 747 € | - | - | 12 | 7 days | Available |
| From 02/03/2019 to 09/03/2019 | - | 2 747 € | - | - | 12 | 7 days | Available |
| From 09/03/2019 to 16/03/2019 | - | 2 747 € | - | - | 12 | 7 days | Available |
| From 16/03/2019 to 23/03/2019 | - | 2 747 € | - | - | 12 | 7 days | Available |
| From 23/03/2019 to 30/03/2019 | - | 2 747 € | - | - | 12 | 7 days | Available |
| From 30/03/2019 to 06/04/2019 | - | 2 747 € | - | - | 12 | 7 days | Available |
| From 06/04/2019 to 13/04/2019 | - | 2 747 € | - | - | 12 | 7 days | Available |
| From 13/04/2019 to 20/04/2019 | - | 2 747 € | - | - | 12 | 7 days | Available |
| From 20/04/2019 to 27/04/2019 | - | 2 747 € | - | - | 12 | 7 days | Available |
| From 27/04/2019 to 04/05/2019 | - | 2 747 € | - | - | 12 | 7 days | Available |
| From 04/05/2019 to 11/05/2019 | - | 2 747 € | - | - | 12 | 7 days | Available |
| From 11/05/2019 to 18/05/2019 | - | 2 747 € | - | - | 12 | 7 days | Available |
| From 18/05/2019 to 25/05/2019 | - | 2 747 € | - | - | 12 | 7 days | Available |
| From 25/05/2019 to 01/06/2019 | - | 2 747 € | - | - | 12 | 7 days | Available |
| From 01/06/2019 to 08/06/2019 | - | 2 747 € | - | - | 12 | 7 days | Available |
| From 08/06/2019 to 15/06/2019 | - | 3 205 € | - | - | 12 | 7 days | Available |
| From 15/06/2019 to 22/06/2019 | - | 3 388 € | - | - | 12 | 7 days | Available |
| From 22/06/2019 to 29/06/2019 | - | 3 735 € | - | - | 12 | 7 days | Available |
| From 29/06/2019 to 06/07/2019 | - | 4 252 € | - | - | 12 | 7 days | Available |
| From 06/07/2019 to 13/07/2019 | - | 4 409 € | - | - | 12 | 7 days | Available |
| From 13/07/2019 to 20/07/2019 | - | 4 409 € | - | - | 12 | 7 days | Available |
Available
Unavailable
Special offers
Last-minute rentals